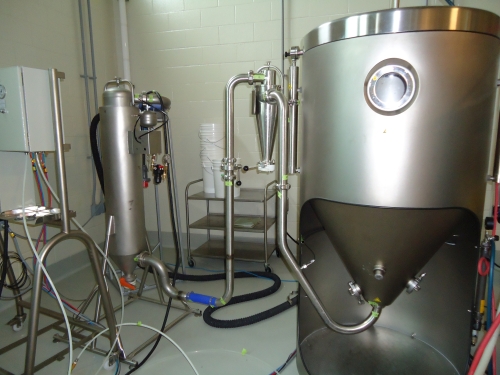 Niro Mobile Minor 2000 Spray Dryer
Model: D & H
Chamber: Dia 800X 620 mm /cone 60 degree
Material: 316 SS
Max inlet temp: 350C
Max outlet temp: 120C
Nossles: Fountain two-fluid nozzle.
Rotary atomizer nozzle.
Powder collection: coarse powder under drying chamber.
fine powder under cyclone.
Drying air rate at 200C inlet temp: 80kg/h
Drying Capacity: 1-7kg/h of water evaporation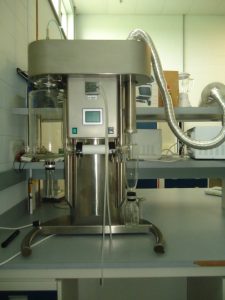 Labplant Spray dryer
Max liquid flow: 2.115L/hr
Max air flow: 4.3m/s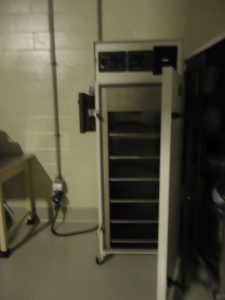 Lunaire Environmental Forced Air Ovens are engineered to provide constant high temperature conditioning with high
temperature uniformity. The oven features a separate high heat limit controller and a process timer that is used
to automatically time your process cycle.
Temperature range from 15C to 250C.
It has a 10 cuft chamber with 6 selves.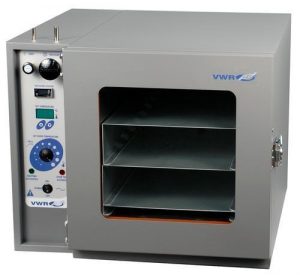 VWR Model 1490 Vacuum dryer
Volume: 4.5 SQFT
Temperature control: Fully programmable
Gas purging available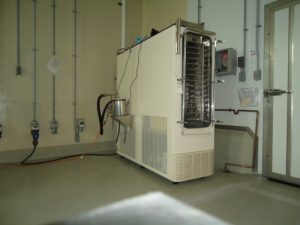 Virtis Freeze Dryer Ultra El-85
14 trays each 9.75″ x 19.5″ x 1.5″
Can handle food grade samples.
50L condensing chamber.
Can remove up to 2.5L of alcohol or similar low boiling point substance.
Programmable temperature profile.
Sample or shelf controllable temperature.
Can stopper samples under vacuum if needed.